Greater Vancouver's Top Commercial Power Washing Team
Maintaining a clean exterior is vital for any business in Metro Vancouver. The exterior of your business plays a crucial role in shaping public perception and overall reputation of your brand, a dirty sidewalk can turn away potential clients. Many businesses such as restaurants, gas stations and strata housing operate under strict cleanliness compliance requirements making professional commercial pressure washing an essential service to avoid potential regulatory issues. Every business in Vancouver and nearby cities with a physical location has concrete and therefore requires regular pressure washing services due to the regions frequent rainfall causing algae growth.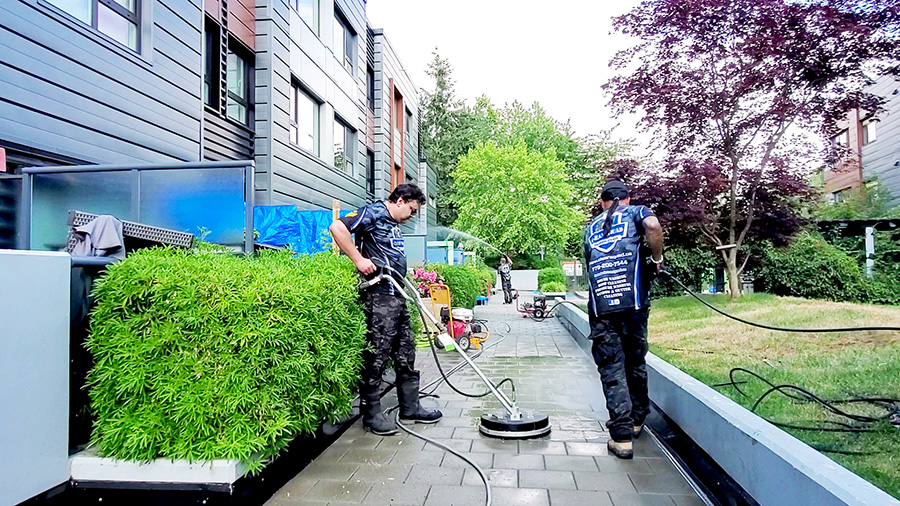 After Hours And Emergency Commercial Power Washing Services
The Clean Squad team is here to help. with years of power washing experience and professional equipment, property managers in Greater Vancouver can rest assured that their buildings will not only meet but exceed cleanliness and compliance standards. We offer after-hours and night cleaning, along with emergency cleaning services for high traffic businesses such as gas stations and restaurants to ensure that your operations don't get interrupted.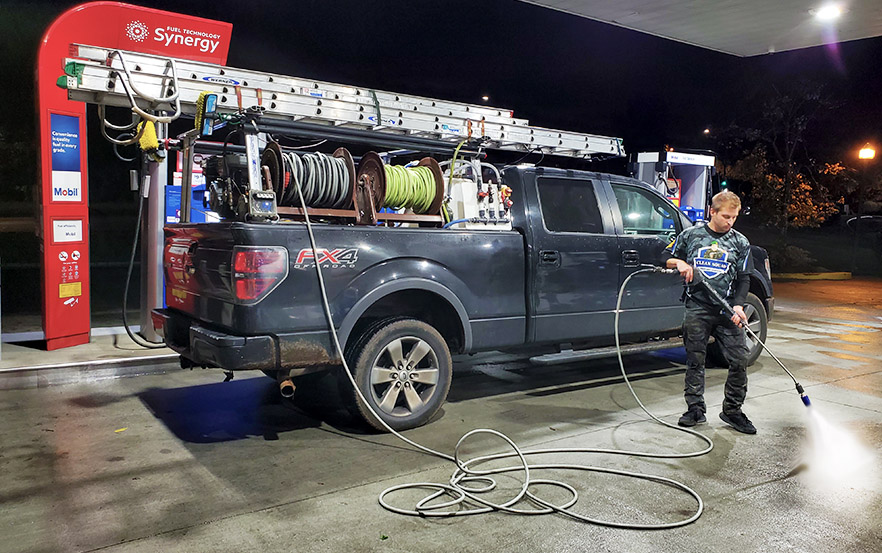 Parking Lot & Parkade Pressure Washing
Parkades, parking lots, gas stations and other large flat surfaces require special surface cleaning equipment for efficient and timely cleaning. These areas are subject to oil stains, tire marks, gasoline stains, road salt and other types of dirt from vehicles which might not get effectively cleaned with just pressure washing. Stains are not just embarrassing they will penetrate the concrete over time and cause it to deteriorate quickly. Regular pressure washing is necessary to these types of businesses not just for aesthetic reasons but also to remain compliant with insurance and reduce liability. Cleaning chemicals such as caustic degreasers are often required with power washing to clean the concrete surface effectively. In some cases hot water pressure washing is required. Our team has the experience to handle chemicals safely to exceed expectations for our commercial clients.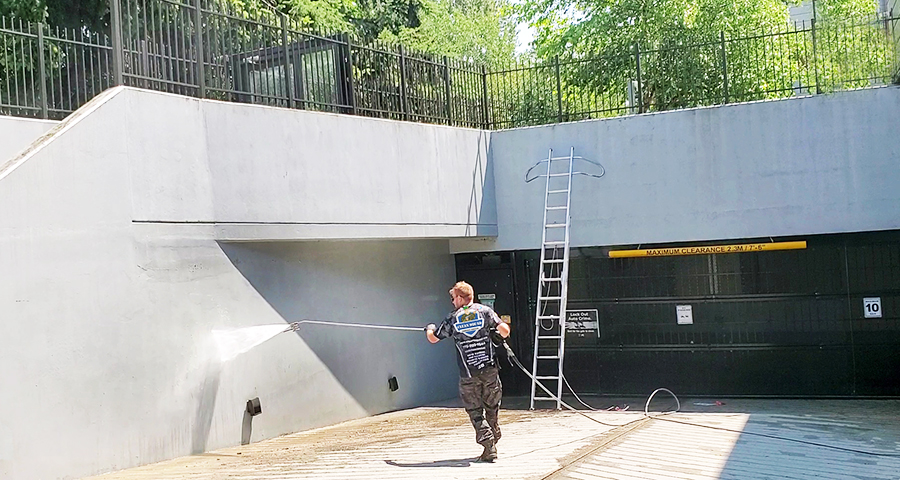 Strata Pressure Washing Services
Strata housing operations such as townhouses and condo buildings require regular pressure washing to keep their residents happy. Maintaining a clean living environment enhances tenant satisfaction, fostering a positive atmosphere that minimizes complaints and contributes to overall well-being. Vancouver is known as one of the most expensive real estate markets in the world therefore tenants have inflated expectations for property maintenance and wont settle for less. Regular power washing can reduce liability, tenants can seek compensation from the management company if injuries occur due to neglected, slippery surfaces. Clean Squad Property Services is experienced in strata power washing and dealing with demanding tenants, our professionals have the commercial cleaning equipment necessary to service large properties in a timely manner and reduce the amount of disturbance to residents.

Storefront Pressure Washing
The cleanliness of a storefront is crucial, as it's the first thing customers notice. Maintaining a clean exterior is especially important for franchises as they are required to maintain a certain brand image that customers and head offices expect. In places like Metro Vancouver, regular pressure washing is essential to keep storefronts welcoming especially during the rain season which causes ugly algae buildup on the sidewalk. The Clean Squad team has the best interests of your brand reputation in mind at every job.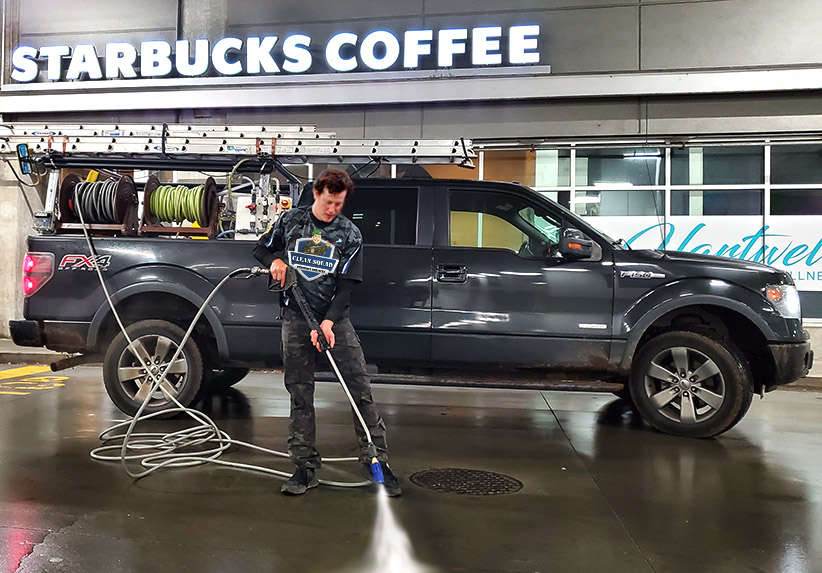 Industrial Power Washing
Pressure washing plays a large role in keeping industrial environments such as warehouses, loading docks, mechanic shops, and factories safe. A clean work environment is a safe work environment. Besides the obvious health, safety and aesthetic benefits pressure washing is an effective way to clean and degrease heavy machinery and construction equipment. Routine cleaning helps in keeping operations running smooth, compliance with safety regulations and improving working conditions for employees. Keeping heavy equipment such as excavators clean is a practical way to avoid costly disruptions from downtime.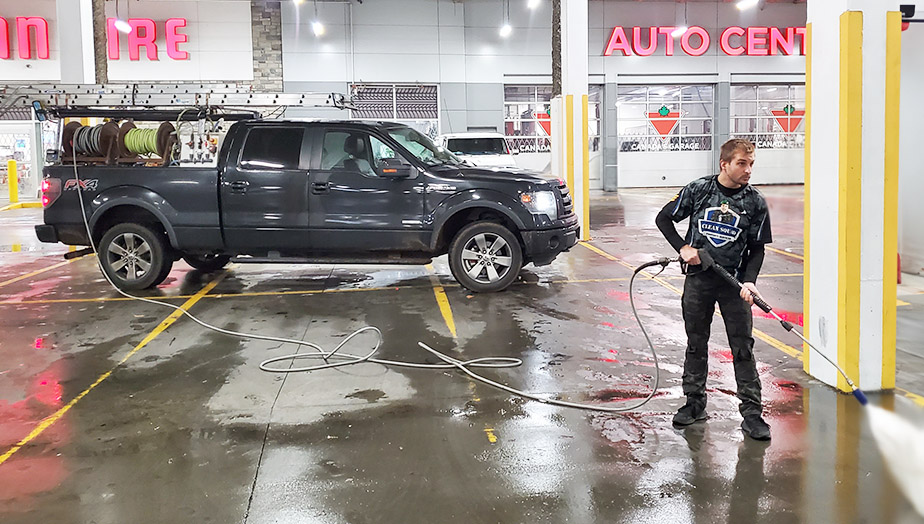 Post Construction Pressure Washing
After construction is finished the job is still far from being done. Construction dust, especially corrosive concrete particles, can adhere to surfaces and potentially damaging them if not promptly removed through professional pressure washing. Construction dust can spread throughout the neighborhood and dirty surrounding properties, keeping a clean worksite can alleviate problems with neighbors. Pressure washing is necessary post construction so that the newly built structure can be presentable for its new occupants. Project managers can be assured that Clean Squad Property Services has the necessary experience and equipment required to make the project presentable to the new owners.