Ladner's Finest Exterior Detailing Team
Ladner is a Delta BC community situated along the Fraser River between Tsawwassen and North Delta. Ladner offers an amazing mixture of rural scenery and Vancouver city life, it's heritage village atmosphere mixed with modern conveniences makes this community a great place to live for retired people. Ladner's Close proximity to the river and abundant farm land contribute to issues like algae and moss growth on most homes. Regular home exterior cleaning is important to extend the avoid costly repairs.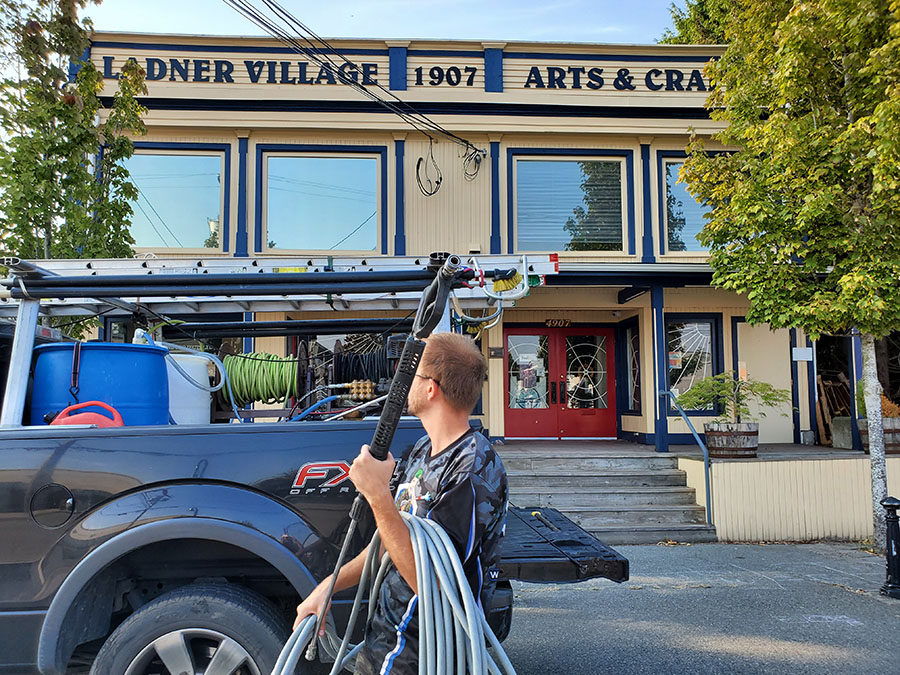 Roof Cleaning In Ladner
In Ladner, the close proximity to the Fraser River and surrounding farmlands often leads to accelerated moss and algae growth on rooftops. Regular roof cleaning is not just about maintaining the aesthetic appeal of your home; it's also crucial for extending the lifespan of your roofing material. Our team uses eco-friendly cleaning solutions and follows best practices to effectively remove organic growth without damaging your roof.
House Washing In Ladner
Ladner has many old and historic homes that require special and professional care when performing exterior washing. Our soft washing procedures use detergents to gently remove algae and dirt buildup from the exterior of your home, restoring its natural beauty without causing any damage.
Pressure Washing In Ladner
The heritage streets and walkways of Ladner can quickly lose their appeal if they are covered in algae and grime. Our pressure washing services are designed to clean flat concrete surfaces, from driveways to walkways, and restore them to their original condition.
More About Pressure Washing in Ladner
Window Cleaning In Ladner
Ladner has many scenic views of the Fraser River to enjoy from the privacy of ones home. Our team uses a deionized water-fed pole window cleaning system to ensure the clarity and steak free shine of windows so that you can enjoy the views Ladner has to offer.
Gutter Cleaning In Ladner
Neglecting your gutters can result in water damage and compromise the structural integrity of your home leading in expensive repairs. Many homes in Ladner are surrounded by lush trees and require regular gutter maintenance. Our team of professionals is equipped to clean and unclog your gutters safely.